'Lawrie' Bond: The Man and the Marque - The Illustrated History of Bond Cars
by Nick Wotherspoon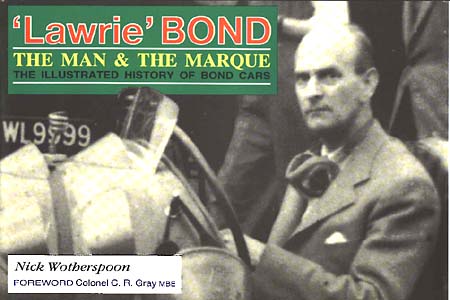 Mention Bond Cars to most people and those who have heard of them at all will invariably recall those "funny little three-wheelers", which used to be a common sight on Britain's roads. Fewer people yet will know the origin of the Bond name, though one or two may recall the slightly eccentric designer, well known in the late 1940s for competing in diminutive Racing Cars of his own creation.
Here are at last is a book which tells the story in full, of all the enigmatic "Lawrie" Bond's designs, together with the products of Sharp's Commercials Ltd. (later Bond Cars Ltd.) which carried the Bond name. From the obscure early machines such as the Minibyke and Lilliput motorcycles, or the Opperman Unicar to better known designs such as the Berkeley, the Bond Minicars, Equipes and the Futuristic Bond Bug. All are covered in detail, profusely illustrated (b/w) with many previously unpublished photographs, only a fraction of which could be included on this site.
ISBN 1870519167
Size 160x240mm (landscape)
176 pages
Includes Index
Sorry! the book is now Out of Print and seems to have become something of a collector's item! However, used copies are often available - Click on the links below to search:
This page & all material on this site Copyright © Nick Wotherspoon 2012